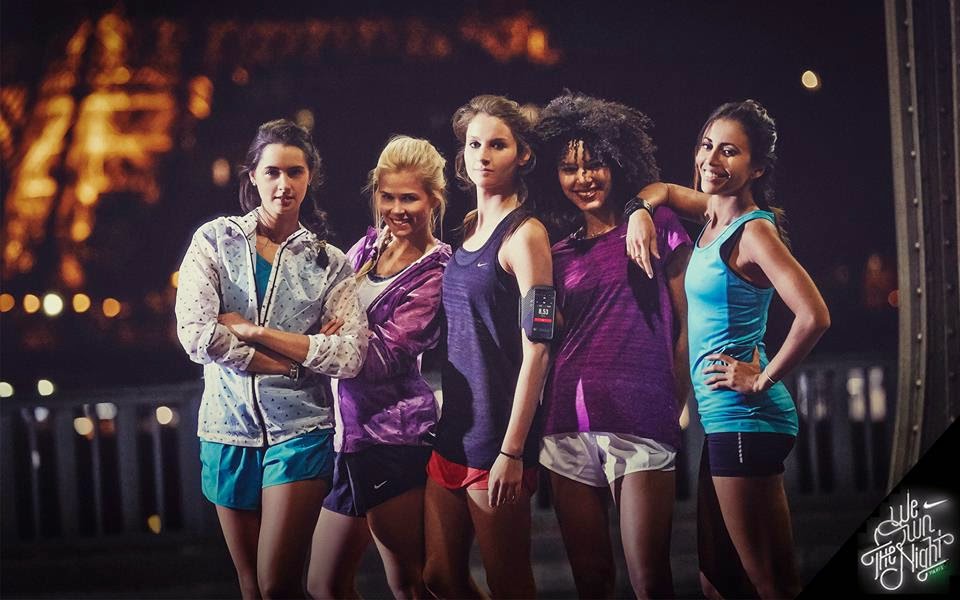 Les L5 n'ont qu'à bien se tenir.
Désolé les dudes mais ce message ne vous concerne absolument pas, vous pouvez retourner bouter tranquillement les anglais sur FIFA 14.
Non là on s'adresse uniquement aux ladies, aux baby-love, aux meufs du running game qui bastonnent le pavé parisien à coup de Nike Free ou d'Adios Boost.
Car si comme nous, vous comptez faire péter le Poum Poum Short cet été pour grater un peu de soleil sur les bords de Seine alors relevez ce challenge tout aussi excitant et attendu que le prochain calendrier des Dieux du Stade : We Own The Night, course dédiée aux filles se déroulant dans la capitale.
Pour ne pas rester sur la touche, Jolie Foulée a décidé d'aligner du lourd avec sa team 100% Girls Girls Girls. 5 nanas remontées à bloc prêtes à en découdre avec n'importe quelle runneuse présente sur cette fucking terre ! On vous fera bientôt les présentations.
Pour vous donnez un peu de contexte, We Own The Night c'est 20 000 participantes dans 5 grandes villes en Europe dont Paris, et surtout 4 semaines d'expériences uniques à faire palir les boat party de Sean Combs aka Puff Daddy aka P. Diddy aka Diddy.
Fadouwa, Amel, Mathilde, Julie et Cosette n'attendent que vous pour partager deux/trois smoothies et quelques foulées sur la ligne de départ le jour J. Leur esprit d'équipe les conduira très certainement sur les plus hautes marches olympiques mais d'ici là, profitez de leur grande générosité et tentez de gagner 4×2 dossards pour la course. Faites vite les places vont se faire rares…
Comment repartir avec vos précieux sésames :
– Tu nous follow sans broncher sur Instagram : @JolieFoulee
– Sois créative et montre ta passion pour le running à travers une photo avec le hashtag #JFWOTN
OU
– Tu partages le post Facebook
OU
– Tu Retweets le Tweeeeeeeet.
Stay tuned pour les résultats ici même avec les noms des 4 gagnantes. A vous de jouer !

Les gagnantes sont :

Insta : Tgfati

Facebook : Flora (Flr Bdt)

Twitter : Pensées by Olivia et La Fille en 40

Contactez nous sur les réseaux ou sur notre e-mail : joliefoulee(at)gmail(point)com