Le London Football Run c'est le projet farfelu de deux mordus de ballon rond et de course à pied. Alexandre, qui nous avait raconté ses ravitos préférés il y a quelques temps sur Jolie Foulée, supporter du Tours FC (l'enfer) et Steve, supporter de l'OM (le pire enfer), ont voulu associer leurs deux passions cet été à Londres.
Entre le 9 et le 13 Août, pendant trois jours, ils vont courir 110km pour traverser la ville de long en large et en travers, et relier les 11 stades des clubs professionnels Londoniens, de la première à la quatrième division. On leur aurait plutôt conseillé de le faire à Paris, ça aurait été plus reposant avec le Parc des Princes et Charléty, mais la passion est plus forte que la raison.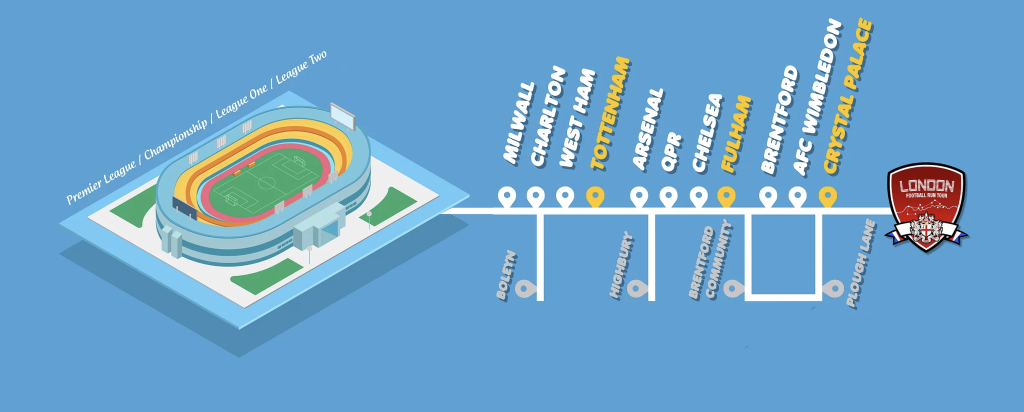 La ligne de départ se situera au Den, l'antre de Millwall bien connue de tous les hooligans, et l'arrivée à Selhurst Park, dans le jardin de Mamadou Sakho.
Au programme du jour 1 :
Millwall – The Den
Charlton – The Valley
West Ham – London Stadium
Tottenham – The Lane
Jour 2 :
Arsenal – Emirates Stadium
Queens Park Ranger – Loftus Road
Chelsea – Stamford Bridge
Fulham – Craven Cottage
Jour 3:
Brentford – Griffin Park
AFC Wimbledon – Kingsmeadow
Crystal Palace – Selhurst Park
La suite de l'aventure à suivre sur Jolie Foulée, par Jérémie, son envoyé très spécial qui vous fera vivre le premier jour de l'intérieur dans un vrai reportage d'immersion.
Et pour couronner le tout, ce projet se fait aux bénéfices de l'association Courir pour Marie. On vous invite donc à participer à son financement dans le but de lever des fonds pour favoriser la pratique de la course à pied pour les personnes à mobilité réduite.
Thanks peeps.